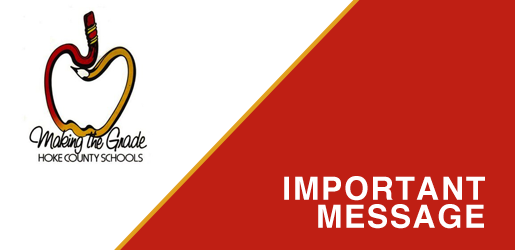 General Information:
Welcome to Hoke County Schools online application system for Student Enrollment (K-12). The information reported in this packet will become part of your child's record. Student record information will not be released to third parties or used for purposes other than routine daily and/or emergency contact needs without the knowledge or permission of parents, or legal guardians, except in accordance with the law.
Only a parent or legal guardian may apply for Hoke County Schools. Proof of Guardianship can include a birth certificate, divorce papers, Social Services paperwork, or paperwork signed by a judge awarding custody.
Remember to inform school staff of any special needs your student may have (504 Plan, IEP, special health care needs, etc.)
All applications will be checked for accuracy. Any falsification of information may result in your application not being processed and/or denied.
How-To Videos:
*Please also note that this website is optimized for IE 10.0 and higher, Safari, Chrome and Firefox.
Available for 2023-2024 School Year
Available for 2022-2023 School Year
---
Hoke County Schools Online K-12 Enrollment Information:
We would like to welcome you and your child to Hoke County Schools! Please read through the information below to identify the documents required for enrollment. Complete all forms within this online packet in order to ensure a prompt enrollment for your child. ENROLLMENT WILL NOT BE COMPLETED UNTIL ALL DOCUMENTATION IS UPLOADED VIA THE FAMILY DASHBOARD.
Proof of Legal Name and Date of Birth (You must provide one of the following documents)

Original or photocopy of birth certificate
Passport
Refugee resttlement letter (Local sponsoring agency, U.S Department of Health and Human Services, Office of Refugee Resettlement)
State-Issued ID
U.S Department of State (I-94 Arrival/Departure Record)
Student's driver's license
Life Insurance Policy
Certified copy of any medical record of the child's birth issued by the treating physician or the hospital in which the child was born
Previously verified school records
Certified copy of a birth certificate issued by a church, mosque, temple, or other religious institution that maintains birth records of its members
Decree of Adoption

Current Proof of Residency (You must provide one item from Group 1 and one item from Group 2 OR one item from Group 3)

Group 1

Copy of residential deed OR record of most recent residential mortgage statement
Copy of residential lease
Notarized residency affidavit from homeowner/leaseholder affirming tenancy
HUD closing statement

Group 2

Any ONE utility bill or work order dated within the past 30 days, including gas, water, electric, phone or cable
Dated within the past 30 days: payroll stub, bank statement, credit card statement
Current vehicle registration
Valid NC Driver's License or ID Card
Dated within the past year: Vehicle tax bill, Property tax bill, W-2, Medicaid card

Group 3

Letter from approved agency (group home)
Refugee resettlement letter
Copy of Hoke County Housing Authority lease
The following documents are required within 30 calendar days of enrollment
Birth Certificate
Immunization Records
NC Health Assessment Transmittal Form

Must be completed and signed by a licensed physician (Physicals are good for one year)
You can find a copy of the form HERE.
Additional Forms required for upload, if applicable
Legal Documents are required if the child is not living with parents or if parent is proclaiming custodial rights

Court order document
Notarized statements are not sufficient

Medication Form for students requiring medication at school
ED 506 Form - Indian Student Eligibility Certification Form for Title VI Indian Education Formula Grant Program

You can find a copy of the form HERE.
---
For More Information, Contact:
Hoke County Schools
310 Wooley Street
Raeford, NC 28376
Phone: 910-875-4106
For Technical Support Contact:
Scribbles Software
Email: help@scribsoft.com


---
Business Hours:
Monday - Friday, 8:00 AM - 4:30 PM